The 32 competing national sides across the three competitions which make up the biggest and best Rugby League World Cup 2021 took part in the first significant action of the event – the coin toss.
The coin-toss was originally planned to be held in Manchester but today, exactly a year before (27 November) the Men's and Women's double header final at the world famous Old Trafford stadium, the event was conducted virtually to decide the 'home team' for all group stage matches.
England Men and Women will be the 'away' team in their opening matches – the Men's team against Samoa at St James' Park, Newcastle on 23 October 2021 and the Women's team against Brazil at Emerald Headingley Stadium, Leeds on 9 November 2021.
The unique and inclusive tournament also embraces the Wheelchair World Cup which will kick off at the iconic Copper Box Arena in London on 11 November 2021. England will be the home team against famous sporting rivals Australia on the opening day of the tournament.
The team winning the toss was allocated the home team dressing room, choice of the arrival time at the venue on match day as well as the traditional Captain's Run on the day before the matches. Dean Hardman, the RLWC2021 Tournament Director, said:
We had hoped this ceremony would take place in person but virtually it was just as significant a moment and marks another key milestone as we prepare for the biggest and best RLWC in history.
"The excitement is really starting to build and I am grateful for the participation of all our competing nations for taking part in not only this event but also all the workshops that we have successfully held this week which lay the important foundations for this unique tournament."
Jon Dutton, Chief Executive of RLWC2021, added:
We have had an exceptional week of engagement with all our competing nations and our brilliant host towns and cities. The anticipation for the excitement that will unfold across all three tournaments next year is clearly evident and this week demonstrates, once again, that the momentum is continuing to grow at pace.
"On the same day as we delivered globally for all the competing teams, locally we continue to fulfil our promise to create positive social impact. I am extremely proud that this most inclusive of all Rugby League World Cup's continues to deliver for communities across England with the announcement today that our CreatedBy projects have reached £10 million worth of investment."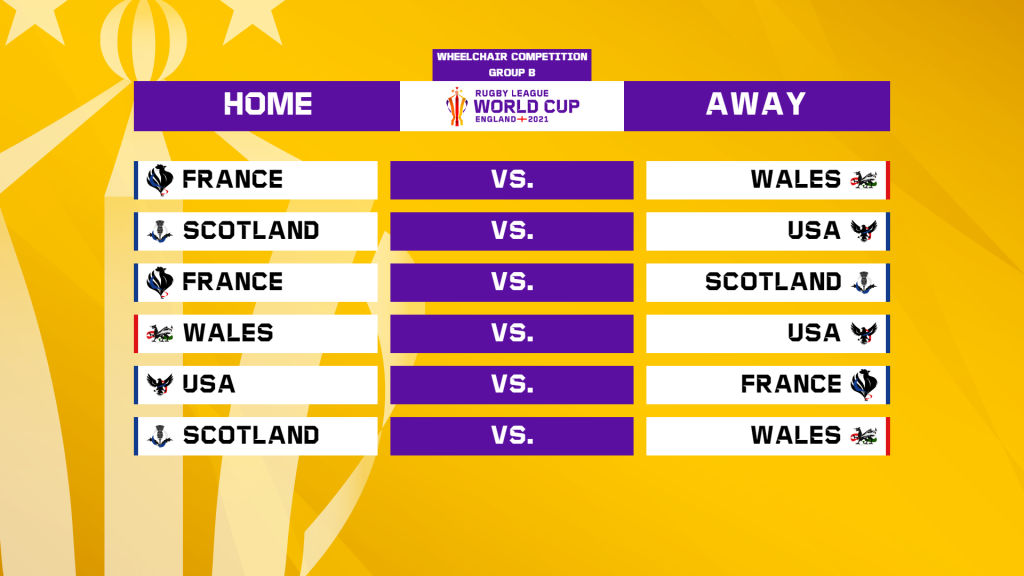 For full and complete fixture list denoting home team, please see below:
RLWC2021 Men's Tournament
*denotes home team designation
Group A
England v Samoa*
France* v Greece
England* v France
Samoa* v Greece
England v Greece*
Samoa* v France
Group B
Australia v Fiji *
Scotland* v Italy
Australia v Scotland*
Fiji* v Italy
Fiji* v Scotland
Australia v Italy*
Group C
Jamaica* v Ireland
New Zealand* v Lebanon
New Zealand v Jamaica*
Lebanon v Ireland*
New Zealand* v Ireland
Lebanon* v Jamaica
Group D
Tonga* v PNG
Wales* v Cook Islands
Tonga* v Wales
PNG v Cook Islands*
Tonga* vs Cook Islands
PNG* v Wales
RLWC2021 Wheelchair Tournament
Group A
Spain v Norway*
England* v Australia
England v Spain*
Australia v Norway *
Australia v Spain*
England v Norway*
Group B
France* v Wales
Scotland* v USA
France* v Scotland
Wales* v USA
France v USA*
Wales v Scotland*