DESIGN THE SCOTLAND RUGBY LEAGUE WORLD CUP 2021 TRAINING SHIRT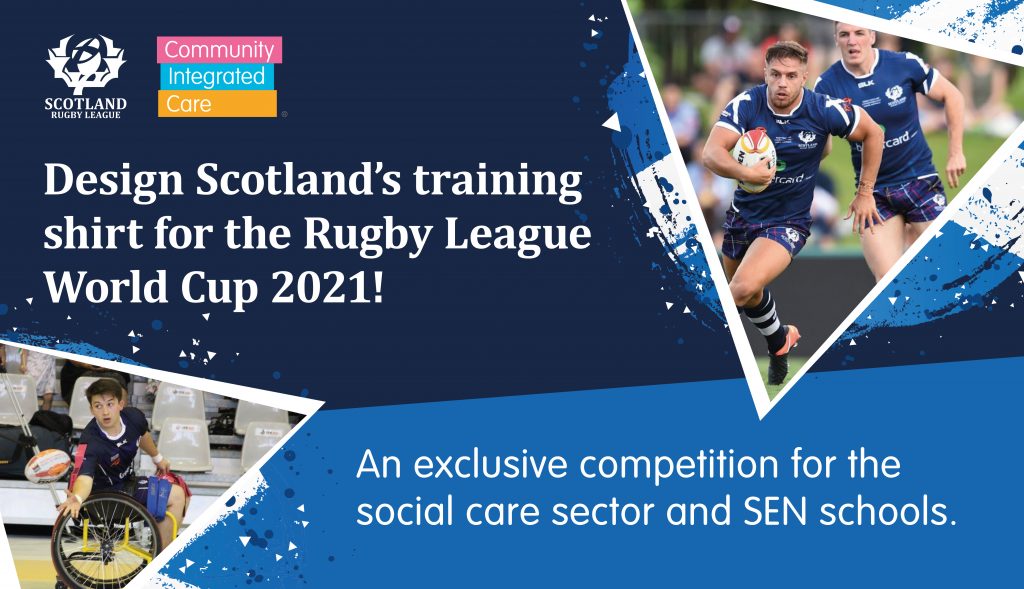 Scotland Rugby League have teamed up with Community Integrated Care, one of Scotland's biggest and most successful social care charities, to launch a very special competition!
We are inviting a person who has care or support needs to help design the official Scotland Rugby League training t-shirt, which will be worn at the Rugby League World Cup 2021! This project is open to social care providers, SEN schools, community groups, or people who want to apply independently. Have fun and get creative!
This competition celebrates our new partnership with Community Integrated Care, as our Official Social Care Partner. Together, we will be helping to create new opportunities for people who have support needs to enjoy our amazing sport.
About the competition
Scotland are proud to be playing in both the Men's and Wheelchair Rugby League competitions at the Rugby League World Cup 2021.
This tournament takes place in across England in October and November 2021. It will be one of the biggest sporting events of the year, watched by millions of people.
We are excited to give someone the opportunity to design the training t-shirt that both of our teams will train in before and at the event.
We're not necessarily looking for the best artist. We just want to see a creative design that our team will be proud to wear.
Our winner's idea will be professionally re-designed, so their creation looks amazing on our kit.
Our judges may choose to bring together different entries to create a shirt that features the best elements of several designs.
Judging
The judging will be led by representatives of Scotland Rugby League, as well as people supported by Community Integrated Care. We are committed to making this an inclusive process.
To enter the competition
For information please download the competition toolkit here.