RETURN TO PERFORMANCE RUGBY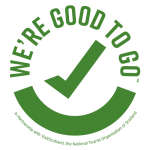 These documents establishes the approach Scotland Rugby League (SRL) are taking for the sports practical return to Wheelchair Rugby League and the training environment within Step 2B of the Scottish Governments (SG) guidelines on resumption of performance sport which relates to the introduction of close contact indoor training, which builds on the step 1 guidance. The guidance below applies to all athletes and essential members of staff within SRL to facilitate successful training programmes and sessions.
Athletes within SRL are defined as "Performance Athletes" as they fall into the defined categories provided in the Phase 3 Step 2B guidance from sportscotland.